HPBC PRESIDENT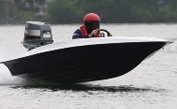 Joined: March 31st, 2012, 5:53 pm
Posts: 3390
Location: Lapping lil charger
The daily driver race would have been a bit better if they ALL showed up with their actual daily's....but still good. That Jeep of AZN's is a monster with the AWD...I'm still a big fan of a boosted LS motor though. The vette that Chuck was driving is definitely something I could see myself in lol.

_________________
08 SRV w/3.1 Hydro-tec Phase lll

I've got enough torque to tear a hole....in time...